Success Stories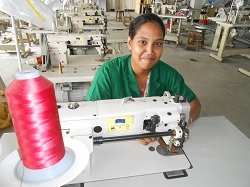 Asma Ul Husna
Asma Ul Husna was born in a lower middle class family. She was born on March 1992. From her childhood she loved schooling and studied in Bangladesh Railway Govt High School, Akhawra. After the high school education she joined for college at Shahid Smriti Degree College in Akhawra.
She grew up in a family with five other siblings. After her father and mother passed away her elder sister took charge of the family. Financial crisis compelled her to put a pause in her studies. She then started to feel as a burden for her family and then she decided to do something on her own.
Well, hearing from a family friend about COEL she came to COEL Centre Gazipur on October 15, 2012 for an interview and finally joined COEL as a trainee for Machine Operator course on November 1, 2012. She specially remembers this particular date as she always quotes "This day has changed my life".
Here she completed a 3 months training program for Machine Operator and received a stipend money of BDT 4,500( USD 57 approx), and her journey to the leather sector began. As she was highly motivated towards job of a trainer / junior trainer, COEL offered her a job as Junior Trainer at COEL rather than placing her to industry as Machine Operator. As the first challenge of her professional life she was transferred to Brac COEL Centre at Chittagong as a Junior Trainer, and she took the challenge with courage. She worked there for 4 months and again was called back to the Gazipur Centre. In the meantime she received more increments. And now she is having a healthy and satisfactory life. When she is asked about her current life status, she quotes as "I am very much grateful to COEL as I learnt a lot from COEL. I couldn't talk to people and socialize with anyone before. But now I have overcome such problems and I am always motivated to go further. Even once when I was suffering from typhoid and was all alone at home for sixteen days, COEL helped me time to time and helped me unconditionally."
Meanwhile Asma Ul Husna is continuing her Bachelor's Degree program along with her job at COEL. COEL also encourages education along with work. Along with all these Asma is also having a handsome savings in her account ( which she is unwilling to disclose). Her aim in life is to continue her studies and complete graduation and hence contribute more to the leather sector.