Success Stories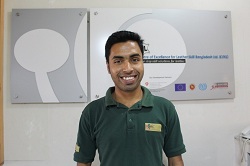 Moslem Uddin name of a responsible man!
Moslem Uddin was born in a lower middle class family in Moujashakhati , Chamtahat , Kaliganj, Lalmonirhat. Like many other families in this country his father was a farmer and his mother was a house wife. He had two younger brothers as well. He received schooling from Shakhati Jabbaria Dakhil Madrasah and after completing Dakhil & Alim examinations he intended to go for higher studies.
However, inadequate financial support did not let him go for higher studies. His family was seized by abject poverty when he took the responsibility of supporting his poor father, mother and younger brothers.
He then decided to come to Dhaka City, A City of Fortunes as quoted by many. Like any other new comer to Dhaka he found himself lost in an ocean of thoughts and did not know what to do. He decided to look for a job in the readymade garments sector and started visiting many factories for an opportunity.
Days like this were not easy for him. He wandered the streets of Gazipur, from one factory to another, looking for an opportunity. He did not have any references nor did he have any relative who worked in a garments factory. Even after tireless efforts, he could not find an employer. However, soon he realized, he needed to be a skilled or even a semi-skilled worker to find a job in that sector. Life was pretty hard with a wallet as poorly fed as his stomach.
One fine day a neighbouring senior lady introduced Centre of Excellence for Leather Skill Bangladesh Limited (COEL) to him as her daughter received skill development training from COEL and is currently doing well.
6th January 2014, he started his first class for training for National Technical and Vocational Qualification Framework (NTVQF) Level 1 Footwear.
With 3 months of extensive training, finding a job was not a worry anymore. He later joined Landmark Footwear as assistant to cutting line operator. He worked there for 2 months and then on June 2014 he was recruited at COEL as a Junior Trainer.
Moslem found a new meaning to life and is planning for future now. He earns a healthy amount to support his family and aspires to grow further and envisions himself in a financially solvent position in the next five years. He started saving up a small amount every month to pursue his higher education. Currently, he is studying Honours Degree on Political Science at Bhawal Badre Alam Government College in Gazipur. "I intend to complete my higher education and contribute more to my family, and I want to see my younger brothers become highly educated and I will keep on working even harder to support my family", as quoted by Moslem Uddin.
This urge to grow pushed him to qualify as the first assessor of NTVQF Level -4 from his batch.
He is very happy and is pleased to see himself in his current position and most importantly he now can afford to dream and plan for the future.