Success Stories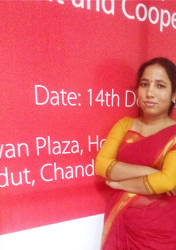 Unstoppable Runa
Runa Akhter was born on 1st March 1992, being the 1st child of her family she used to get special care and love. After her birth her mother Mst. Farida Akter conceived two more children. It was a happy family and joyous childhood but all of a sudden a misfortune turned it upside down! When she was in class five her father lost his job. The family was facing hardship and struggle to make daily living made it all the more difficult for her to continue education. In such despair and moment of desperation, even her family was considering a marriage proposal when she was only in class 9.
She wasn't a bad student either and she was the third girl in her class. The funny things she did to avoid this early marriage is that she started to cry in front of all the guests. After that her father decided to carry the all costs for her education but it was not easy for a jobless father.
Runa came out from all difficulties when she passed S.S.C in the year of 2007 by getting G.P.A (3.31). She admitted herself into Gochihata Collage for H.S.C. She wanted to live a normal life but due to this crisis she could not. She was seeking out paths how to overcome this problem. She started doing tuitions. This in turn gave her a little relief and made it possible again to start her education. She passed H.S.C in the year of 2010 by getting G.P.A (4.30).
She wished to become a nurse but couldn't get admitted herself because of monetary constraint. She was pondering what else she could do? Understanding the reality and her family's situation she started seeking out for a job. At that time, from one of her cousin she came to know about COEL. She made her mind and took the leap forward boldly. A few days later she arrived at COEL and got selected. She still vividly remembers her first day at COEL and it was 2012-04-22. She found COEL a place where one can pursue dream to be come true by obtaining set of industry oriented skills. Since then, she has been diligently taking part in different skill training as to develop herself, further and near the level of excellence!
Now she is working as a Junior Trainer for COEL and is earning enough to take care of herself and hence have some savings as well at the end of each month. Besides these she also admitted herself to Bachelor's degree to fulfill her dream of higher education. Now she wants to complete her education by her own hard earned money. Runa now supports her younger brother & sister to carry on their education.
Runa is such a personality who has faced harsh poverty and social problems which are bigger than her height but she never stopped chasing dreams. COEL has provided her the scope to materialize it, and moving forward with pride and dignity.