Success Stories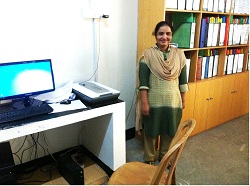 Marina Sultana: Emblem of Positive Change/Better Life
Marina Sultana was born in a lower middle class family. She was born on 30th December, 1983. Memories of her beautiful childhood were with her parents and two brothers and three sisters. She received her schooling from Madrasha and later attended Gobindoganj Mohila College for her high education but could not continue because of her unfortunate personal issues.
She was later married when she faced financial crises and thus she decided to work to support her family. She started working at a garments factory under quality checking (QC) department. According to her, "The work was tiresome as I had to leave for work early in the morning and work till 11-12 at night and the pay did not measure up to the effort she put in her work."
Marina's brother-in-law observed how stressful and tiring her job was; so he informed her about COEL. Therefore, in November 2011 she arrived at COEL for an interview and on 14th of that month COEL welcomed her on board via which she began her journey in the leather sector. She joined as a trainee for Machine Operator course and successfully completed a 3-month training program for Machine Operator.
Somewhere down the road in 2012 she found herself entangled with typhoid. She expressed "It was a difficult time in my life and it would have been more difficult if my seniors had not been as kind and considerate as they have been". "They are very generous and step up in time of need", she added.
She found herself highly motivated towards her job as a trainer/junior trainer after COEL offered her a job as Junior Trainer at COEL (rather than placing her to industry as Machine Operator) upon completing her course.
Furthermore, she was later promoted to a well-deserving position of receptionist when she started earning BDT 7300. She further expressed "COEL has brought about a major lifestyle change for me. Everyone has his/her times of hardship and so did I. After joining COEL, I was able to slowly resolve my hardships and am confident about overcoming any challenge I might face in the coming future.