News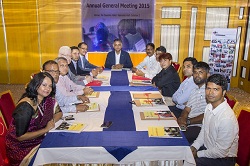 COEL holds 6th AGM
The 6th Annual General Meeting 2015 of Centre of Excellence for Leather Skill Bangladesh Limited (COEL) was held recently in a city hotel, said a statement.
COEL chairman Syed Nasim Manzur presided over the AGM while Vice-Chairman Mr. Md. Nasir Uddin; Secretary General Mr. Md. Mominul Ahsan, Treasurer Mr. Golam Mostafa, Member Mr. S.A.M.M Nuruddin, Mr. A.K.M. Afzalur Rahman, Mr. Abul Kalam Azad, Mr. Ziaur Rahman and Mr. Hedayetullah Ron were present, among others, at the AGM.
Mr. Md. Saiful Islam, president of Leathergoods and Footwear Manufacturers & Exporters Association of Bangladesh (LFMEAB) was also present at the session as observer.
The COEL chairman delivered the inaugural speech of the AGM and presented the Annual Report 2015 and highlighted major events and activities that COEL undertook to implement throughout the year 2015. In his speech, Chairman addressed the challenges that the organization had to face in the previous year such as critical fund shortage, donor's policy changes, new legal framework that the government has enacted with regard to development of fund disbursement.
He also stated that in the year 2015 Bangladesh has experienced a youth unemployment rate of 9.1 per cent, which totals around 2.6 million young male and female. According to the survey on Training and Labour Need Forecast by BIDS, leather sector would be requiring around two hundred thirty thousand labour intakes by the year 2020. Among them one hundred sixteen thousand people will be requiring skill training. For Bangladesh, skill development will play a vital role in achieving SDG goals.
Later on, the annual audit report for 2015 was approved unanimously at the AGM.
COEL was established in the year 2009 to act as a dedicated Human Resource development center in the leather sector. During the last seven years of its journey, COEL has now evolved into a model organization in the field of skill development by successfully introducing on-the-job Apprenticeship following private-public partnership